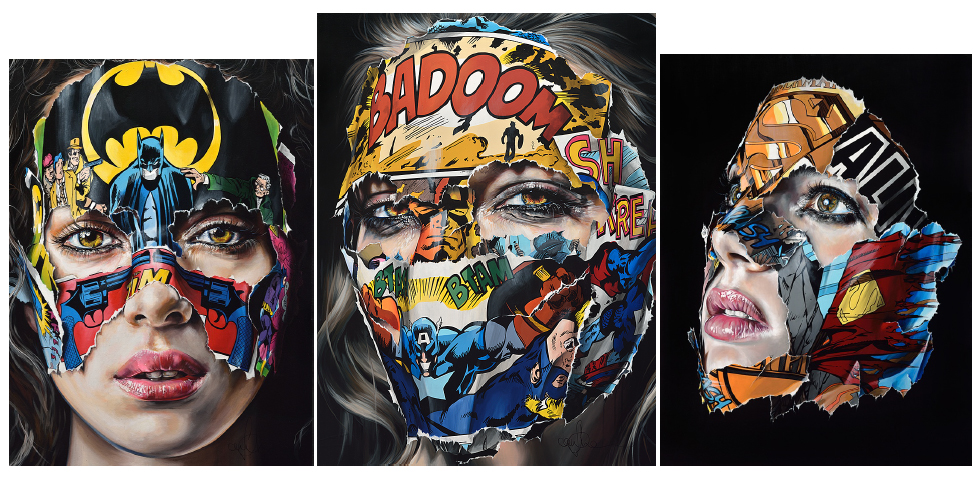 Event details
From October 19th to November 25th, 2017, Quebec artist Sandra Chevrier will present "The Cages; Between the Bars", a solo exhibition of her most recent work, at Montreal contemporary art Galerie C.O.A (6405 StLaurent).

The cage motif is at the heart of Sandra Chevrier's oeuvre and appears in the vast majority of her titles. Made of comic book fragments which the artist collages onto her models' faces, the cages act as masks, but also allow to peer inside and observe what they conceal. The gazes exchanged between contemplator and contemplated thus serve to bridge the inner and outer worlds. Despite all the colourful playfulness and the "CRASH! BAM! POW!," superheroes are also fragile. After all, we are merely human, and we are entitled to our flaws and errors.

Beneath the pop facture and the flashy colours, the precision and lustre of her portraits, Chevrier's masked models (all from Montreal) act like prisms and allow us to peer at the dance between power and fragility; between liberty and captivity.

Although her artwork is internationally acclaimed, Sandra Chevrier's name remains relatively unknown in her home country. Sandra has presented solo exhibitions in New York, San Francisco, Los Angeles, Hong Know and Norway galleries. She has participated in many art fairs across the world, notably in London, Miami and New York. Her artwork is currently on display at the Urban Nation Museum in Berlin, and in 2018, she will present an exhibition at the Lancaster Museum of Art and History (MOAH), in California.

Opening night, Octobre 19th at 5 Pm.
Artists